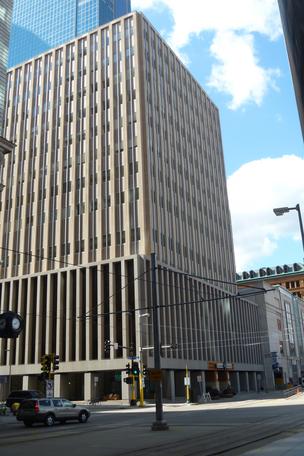 Weber Shandwick will move downtown
The Minneapolis office of Weber Shandwick today announced it will move its operations to downtown Minneapolis when its current lease in Bloomington, Minn., expires in 2016. The firm has signed a long-term lease for approximately 45,000 square feet in the renovated 510 Marquette building. Weber Shandwick will join sister Interpublic Group (IPG) agency Campbell Mithun in the new location. Two other IPG-owned agencies, Octagon and Constituency Management Group (CMG), which currently share office space with Weber Shandwick, also will move, bringing a total of approximately 200 jobs to downtown.
"Moving our office back into downtown Minneapolis and specifically into the incredible space that is being created at 510 Marquette makes perfect sense for our agency," said Eric Pehle, executive vice president and general manager of Weber Shandwick Minneapolis. "We will design a work space that matches who we are as an agency and fosters the engaging work we provide our clients. And we will be better connected to the growing Minneapolis creative community and our IPG agency partners."
Campbell Mithun will be the primary tenant at 510 Marquette Avenue, and Weber Shandwick will occupy the second and third floors. New York-based TPG Architecture will design the office space, which will feature an open design that emphasizes the firm's "engaging, always" culture with a focus on collaboration and co-creation.
Weber Shandwick maintains a long, rich history in the Twin Cities business community and will continue to do so. The agency's presence in the market dates back more than 30 years, originally as Mona Meyer McGrath & Gavin, which became part of Weber Shandwick in 1988. The agency had a downtown office until 1991 when it consolidated its two offices in Bloomington.
"We've matured and grown as an international agency while in Bloomington, and the Normandale Office Park has provided flexibility to evolve our office space to match that growth," said Pehle. "We couldn't have asked for better partners for the past 20-plus years."
Timing of the move is linked to the firm's current lease at 8000 Norman Center Drive in Bloomington, which expires in July 2016. The 510 Marquette building is currently under redevelopment ahead of Campbell Mithun's anticipated move in the fourth quarter of 2014. Jim Damiani at Colliers International | Minneapolis St. Paul is the real estate broker representing Interpublic Group; Hank Kobrin from Newmark Grubb Knight Frank also advises IPG on real estate.